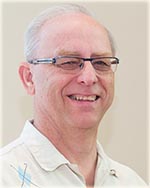 Ken Solberg is Regional Minister of  Saskatchewan and servers the churches of Saskatchewan.
Ken was born in Wadena Saskatchewan, but spent most of his growing up years in British Columbia. Ken had the opportunity to serve in numerous positions in his home church in Richmond, British Columbia. It was here that his love for the church and people was fostered and grew. It was also the place where God lead him to his life partner, Marlene. They have two children and two grandchildren.
Ken had a variety of careers from being in the car rental industry to being a partner in a jewellery store. In 1990, following a significant question, Ken responded to God's on his life. Together with Marlene and their two children they moved to Saskatchewan to attend Briercrest Bible College. Ken graduated in 1993 with a BA in Pastoral Ministries.
Ken pastored a Baptist church in Regina from 1993-2002. He then served as interim pastor at Melville Baptist from 2002-2003 at which time he became their full time pastor serving until 2011.
Ken served as Vice Moderator, Moderator, and Cluster Leader in the SBA during this time. In 2011 accepted the role as Regional Minister for the Saskatchewan Baptist Association. It is Ken's privilege to partner with the churches of the SBA and Leadership Team of the North American Baptist Conference to provide resources and help so that every church in our region will grow to become healthy but also to better equipped to make disciples.
Ken's vision for the SBA is that we would grow together in Christ-likeness. Further, that as we grow each church and each  member of the SBA would strive to Impact the NEXT Community, Reach the NEXT Nation, and Equip the NEXT Generation
__________________________________________________________________________
Contact Information
 Ken Solberg
437 Broadway Ave East.
Regina SK. Canada
S4N OZ8
By Phone : 306-569-3444
By Fax: 306-569-3446
By E-mail: rm@sknab.ca
__________________________________________________________________________
Send a message to Ken: